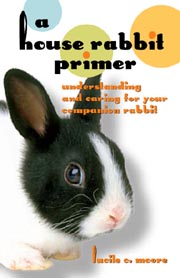 A House Rabbit Primer: Understanding and Caring for Your Companion Rabbit by Lucile C. Moore is a complete handbook on all aspects of rabbit care for both new and experienced rabbit caregivers. In Part I, House Rabbit Care and Behavior, you will learn what to consider when choosing your rabbit, how to prepare for the new member of your family, how to interpret bunny behavior and bunny language, and the special requirements of elderbuns. Part II, Rabbit Health and Medicine, contains information on selecting a veterinarian, how to put a rabbit first aid kit together, and recognizing common signs/symptoms of disease.
"This comprehensive manual covers everything readers need to know about keeping rabbits as pets in a well-organized and informative fashion. . . .This book should be required reading for anyone interested in keeping pet rabbits, and is recommended for public libraries." -Library Journal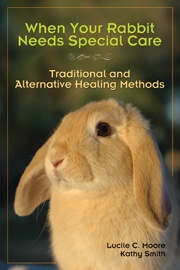 When Your Rabbit Needs Special Care: Traditional and Alternative Healing Methods is a guide to the care and behavior of rabbits with special needs. My coauthor, Kathy Smith, and I provide information to help you give proper care to your ill, injured, disabled, or older rabbit. Quotes from veterinarians, alternative healing practitioners, and experienced rabbit caregivers are featured. Part I, Traditional Healing Methods, includes chapters on basic care, digestive ailments, fractures, paralysis, dental disorders, and elderbuns. Part ll, Alternative Healing Methods, provides information on acupuncture, various kinds of energy medicine, massage, and much more.
"Full of helpful information for rabbit owners whose pets are ill, injured, or in need of extra help." - Library Journal
"I personally found this book at the local library, and was so enamoured of this guide devoted to chronically and acutely ill rabbits, I immediately ordered a copy to have on hand always. I also bought a copy for my veterinarian." - Phyllis O. Beollain, Dayton Small Pets Examiner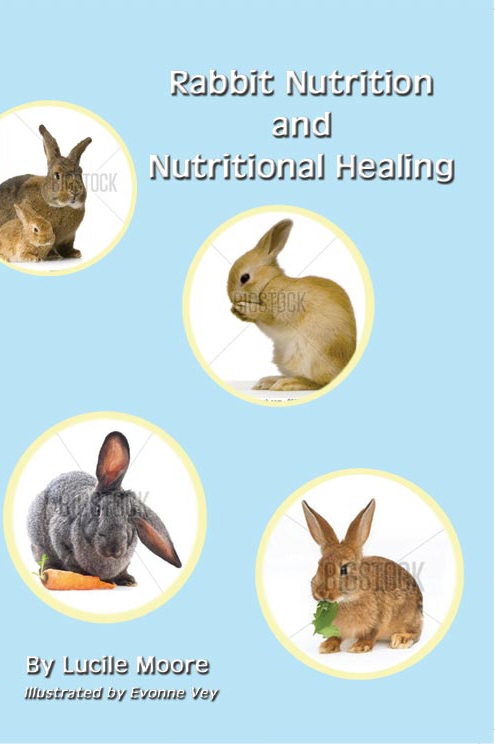 Rabbit Nutrition and Nutritional Healing, Lucile Moore. Illustrated by Evonne Vey. This volume provides rabbit owners with a resource in which they can find data on rabbit diet summarized and presented in terms the layperson can understand and use. Information on each nutrient is given, as well as recommendations on the amounts that are needed for the optimal health of rabbits. Additional topics covered include: mycotoxins, phytonutrients, rabbit-toxic plants, signs of nutritional defieciencies, how to select hay and commercial feeds, and how to interpret feed labels. Here, in one volume, is everything the rabbit owner needs to know about feeding rabbits and improving their health through good nutrition.
"Finally. A book on rabbit nutriiton which neither condescends nor talks above the layperson's head. A book which thoroughly discusses all aspects of rabbit nutriton: the physical, physiological, emotional, and yes, spiritual.
"This book discusses rabbit-safe foods, the nutrients contained in those rabbit-safe foods, and what happens to the rabbit-safe foods after they go into your rabbit! An understandable description of the rabbit's unique digestive system is given, along with a discussion of the diet of wild vs domestic rabbits, and a list of rabbit-safe wild plants. Charmingly illustrated by Evonne Vey, the book provides owners with a resource for all things nutritional." - Phyllis O'Beollain, Dayton Small Pets Examiner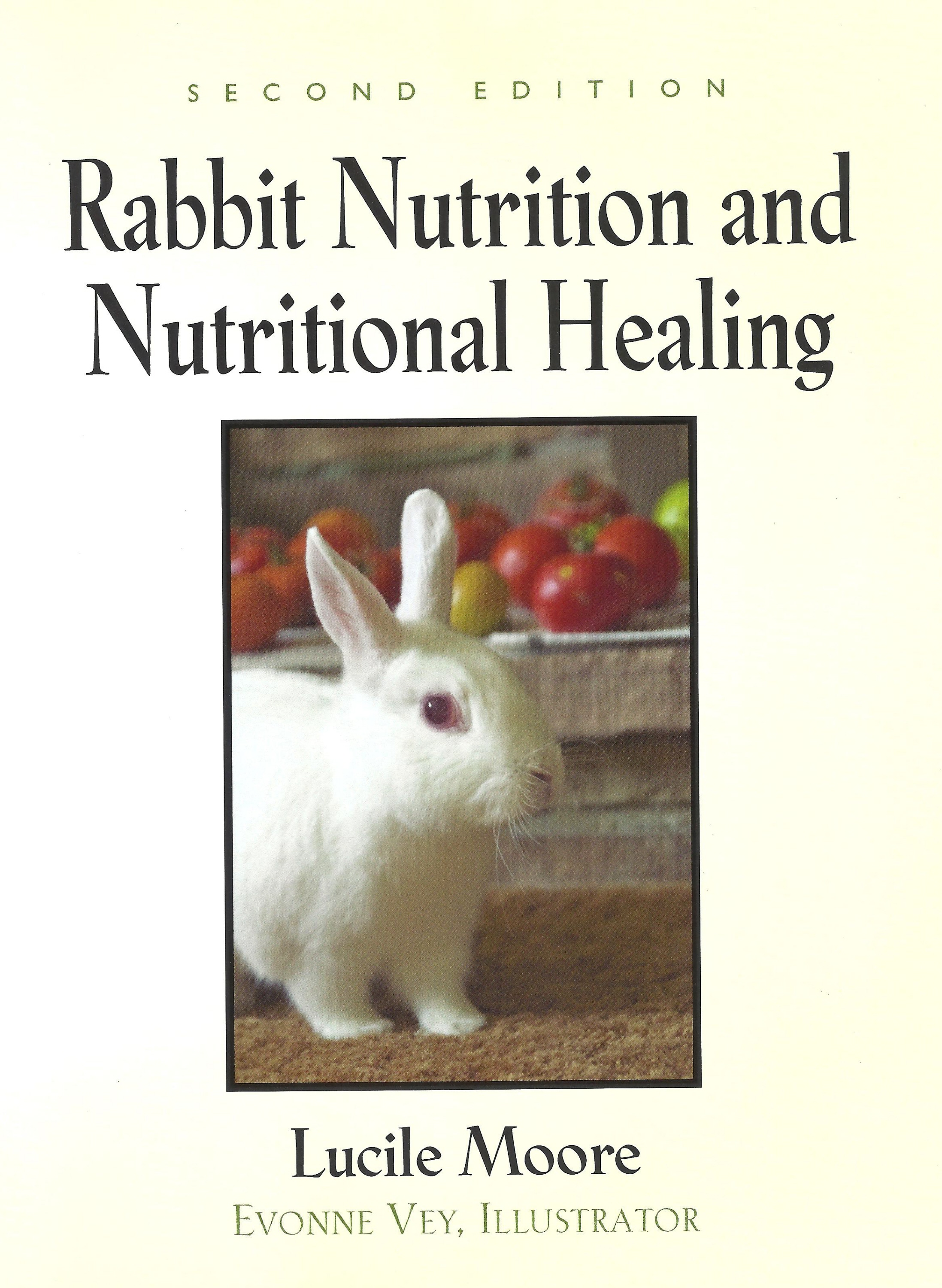 Rabbit Nutrition and Nutritional Healing, the second edition, is in a larger format for easier reading, contains more illustrations, information on the nutritional content of several specialty fruits and vegetables, new charts, and a new chapter on special diets.
NEW! The third edition of Rabbit Nutrition and Nutritional Healing is now available as a free download. Click on the pdf icon below left to download your copy.